Post by ava rose on Jan 21, 2010 22:50:24 GMT -5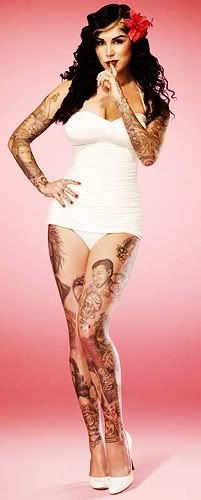 HEY Nicolle,
ARE YOU COMPLETELY SATISFIED
WITH WONDERLAND AND ALL ITS WONDERS?
HEY I'M MissPhoenix, AND I'M TwentyTwo YEARS OLD. I'VE BEEN DIGGING THIS SCENE FOR ...years MONTHS/YEARS. I LIVE IN THE EST TIMEZONE, JUST FYI. I FOUND THIS SITE I made the trailers AND I JUST WANT TO TELL YOU And so it begins!
CAUSE IF YOU'RE NOT, YOU KNOW I'VE HEARD THAT
THEY'RE HANDING OUT A MONEY-BACK GUARANTEE AT THE DOOR.
FULLNAME ! Ava Audrey Rose
NICKNAMES ! Hollywood
AGE ! Twenty one
BIRTHDAY ! July 30 1988
ORIENTATION ! Bi
SPECIES ! Human
STATUS ! Hunter
FACECLAIM ! Kat Von D
I READ THE PAPER AND I DRANK ALL THE JUICE
IN MY REFRIGERATOR NOW I'M STARVED FOR KNOWLEDGE AND THIRSTY FOR THE TRUTH
LIKES ! Tattoos, muscle cars, killing vampires, Taking away witches' powers, drawing, rock music, making preppy girls cry, being sarcastic, horror movies, Ville, LA
DISLIKES ! Witches, Vampires, Preppy girls, High school, tiny dogs, Pink and fluffy things, most pop music
STRENGTHS !
Strong fighter/ shooter
Has a strong passion hate for witches
blunt person
WEAKNESSES !
Can get hot headed
Leaps before thinking
doesn't like to listen to others
FEARS !
Reliving her past (being tortured by witches)
Falling for a vampire
GOALS !
Becoming one bad ass supernatural hunter
Revenge on all witches
SECRETS !
She was tortured by witches when she was in high school.
PERSONALITY !
Ava has mood swings just like everyone else though hers can be extreme. She doesn't care if she is anyone's friend. She has a job to do and she is determine to do it. She wants to get rid of witches and vampires from this earth. She enjoys hunting them down and killing them.

AND IN THE PAGES I COULD SENSE ALL THE LONGING
IN THE WORLD. I CLOSED MY EYES BECAUSE I'M LONGING TOO
MOTHER ! Lilith Rose, 56, florist in LA
FATHER ! James Rose, 60, musician LA
SIBLINGS ! none
OTHERS ! has a slight crush on Ville
HISTORY !

Ava grew up in LA, its her beloved home. Her parents are pretty much hippies/rockers. She loves them and her home. When it came time for high school though, things changed. Some of the girls at the public high school shot up through the ranks and started acted like real bitches. In high school, ava tried to join in with the cool girls. She became their little puppet and started to toy with her.

These witches practiced their magic on Ava, almost killing her. If it wasn't for the hunters then Ava would have been killed by them. Ever since then, Ava changed. Her skin grew tougher and she grew into a hunter. She took to the road after high school to continue on as a hunter. Her latest assignment is to travel to New York.

RPSAMPLE !


Cold rain started to pour in New York as Ava drove through the streets in her black 1970's mustang. The engine purred as it roamed the streets. Ava's eyes were darting right to left, she was on the lookout tonight for any supernatural beings. Her car was fully packed with weapons, if any cop could get her to pull over they would discover the lovely array of weapons.
But no cop could ever get her, she was too fast for them.

She stopped at a red light. The streets seemed empty tonight. Only a few cars passed infront of her at the intersection. Then she saw it. A dark figure at the edge of her eye sight, running at a speed that was a little bit too fast to be human. She slammed her foot down on the gas peddle and ram her car in the direction of the figure.




WHO KNOWS YOUR NAME ANYMORE, ANYMORE?
I'LL SAY YOUR NAME FOREVERMORE, FOREVERMORE...

oh hai! this appy was made by RAH RAH RILEY ?! of
CAUTION. she used kendall payne lyrics from the song
wonderland. don't remove this tag, snickerdoodles. <33